We are UK based, if you prefer to
phone on 020 7258 1831.
Monday to Saturday, 9.30AM until 5.30PM



Security Note: This shopping cart system uses only the latest and most secure SSL Encrypted Security technology available. Your "Checkout" will be 100% secure, assuring that all personal information will be protected.




Outside Bullet IR Cameras
2020 B/W Bullet Camera with 12 x IR LED's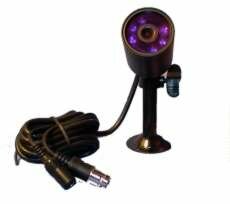 B/W Submersible Bullet Camera with 12 x IR LEDs
BNC Socket for video and
DC Power Socket for 12V DC Supply.

The 2020 is supplied in a unique black waterproof case and can be mounted either inside or outside. It comes complete with a 3.6mm lens and gives excellent imag reproduction. The unique feature of the 2020 is its infra-red LEDs are fitted around the Lens, and project infra-red light onto the subject area enabling the camera to be fitted in enclosed environments where illumination is limited.
Specifications
Image Pick-up Device: 1/3" CCD (Sharp) Image Sensor

TV System: CCIR (PAL)

Number of Pixels: 500(H) x 482(V)

Resolution: 400 TV Lines

Min. Illumination: 0.1 Lux (F1.2)
O lux up to 5 metres (Depending on Conditions)

Video Output: 1.0 V p-p 75 Ohms

Lens : 3.6mm fitted

S/N Ratio: More than 46 dB

Electronic Shutter: 1/50 - 1/100,00 Sec

Power Source: DC 12V

Current Consumption: 150mA Max

Dimmensions: 35(D) x 48(W)mm
2020 B/W Bullet Camera £59.95
2020Kit Complete with 16 metre Cable,
Power supply and Scart Adaptor £71.95
Add Sound to CCTV Camera
All Prices Exclude Carraige and UK VAT



Henrys Electronics Ltd
404 Edgware Road, Paddington, London, W2 1ED, UK, VAT Number : GB 241 7629 61
Tel:+44 (0)20 7258 1831, Fax:+44 (0)20 7724 0322, email: