4 & 6 Button Apartment Hands Free Video Door Entry System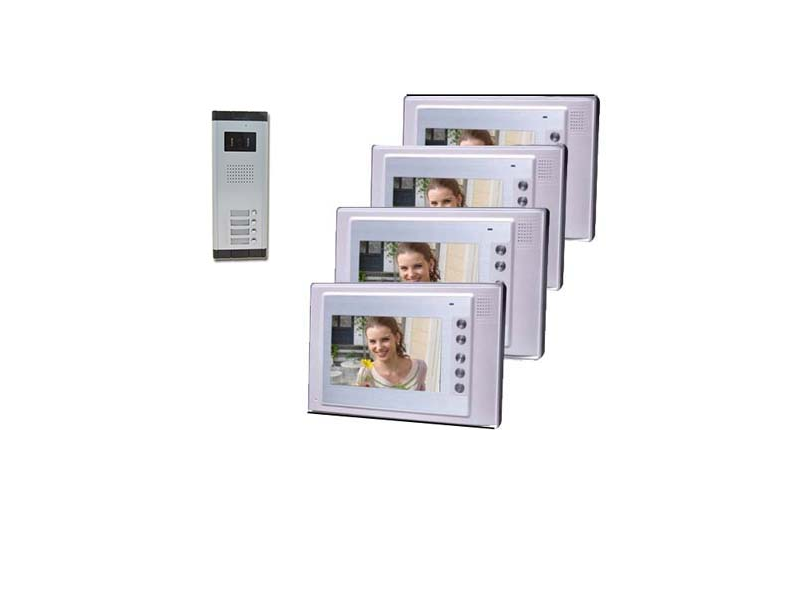 VSC4/4 7 "Hands Free" Colour Video Door Phone System With Four 7" Monitor Screens
£320.85 + VAT
£385.00 INCL VAT
VSC4M Extra 7" Monitor
(Up to 6) £75.00 + VAT
£90.00 INCL VAT
Optional Door Release £14.42 + VAT
£17.30 INCL VAT
Optional Extra Cable
100 Metre Drum of CAT 5E Cable £24.95 + VAT
£29.94 INCL VAT
Colour Video Doorphone Systems with 2-way intercom system for home and office, allows the you to view callers at the door, speak with them, before you let them in............................
Hands Free Video Entry System with clear 7" Internal screen, new high clarity outdoor camera with call button. Features press button to call, optional hands free two way conversations. Option for door release.Infrared camera with Hood, vandal resistant, surface mounting kits. Complete with power unit (one per monitor) 8 metre cables (Camera to Monitor & Monitor to Monitor if required). Monitors with optional choice of tunes, variable volume and brightness controls.
Features
4 x 7" Diagonal Wall Mount Colour LCD Monitor
Weather Resistant Surface Mount Colour Camera with LED'S
Press Button Calling
Surface Mount Colour Camera and Night Vision LED's With "Hood"
2 -way "Hands Free" Audio Communication
Video Output Connect to TV
Auto Switch Off
Supplied with 8m Cable
Maximum Distance 50 metres
Optional door lock release (Yale Type)
230V AC Operation
Specification
Screen size: 7" TFT(16:9 display)
Resolution: 480xRGBx234
Power input: AC100V-240V 50Hz/60Hz
Power output: DC15V
Current output: 1200mA
Delay calling time: 120S±10%
Delay monitoring time: 60S±10%
Valid distance: 50m(4x0.65 square millimeters)
Viewing Angle: 3.6mm 92 degree/ 6mm 62 degree
Indoor unit dimensions: 260(W)*165.5(H)*27(D)mm
Outdoor unit dimensions: 56(W)*126(H)*33(D)mm.
VSC4/6 7 "Hands Free" Colour Video Door Phone System With Six 7" Monitor Screens
£454.17 + VAT
£545.00 INCL VAT
VSC4M Extra 7" Monitor
(Up to 6) £75.00 + VAT
£90.00 INCL VAT
Optional Door Release £14.42 + VAT
£17.30 INCL VAT
Optional Extra Cable
100 Metre Drum of CAT 5E Cable £24.95 + VAT
£29.94 INCL VAT
"Featues & Specifications as "VSC4/4"