......Buy CCTV Camera Equipment from Henrys Electronics
Henry's Electronics Ltd
Digital cctv camera equipment , security systems, intercoms, door entry phones, audio equipment, public address, pa equipment, disco equipment and stage. replacement speakers, Digital Video Recorders, surveillance equipment, CCTV Camera Kits, DVR'S, GeoVision, power supplies, auto transformers, inverters etc, for all types of Systems. Suppliers to retail, trade, education and industry throughout the world. All Prices are in "UK Pounds Sterling" UK VAT

Export customers, deliveries worldwide. Free delivery to shipper.
Proforma Invoice, Free quotations, Payment by bank transfer.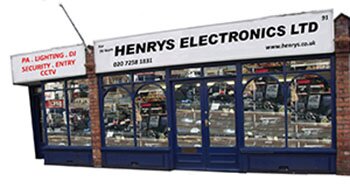 See our Range of CCTV Camera Security Equipment

All Prices are in "UK Pounds Sterling UK VAT

"HENELEC" Registered Trademark for Henrys Electronics Ltd
Come and see us, Free Parking Outside 20 mins. Lidl 60 Mins Free
Edgware Shopping Centre 90 mins Free
Why Us, "We have 70 Year Experience supplying Electronics Equipment".............

Visit our new DJ & PA Equipment Centre



Visit our new Mobility Centre

See inside our Store

All Prices Exclude Carriage and UK VAT
We Accept School/Educational/Council/Government Official Orders For Automatic 30 day Account
Just Fax Order to 020 8952 2195 (Subject to Approval)
Check out Henry Electronics on Yelp
UK Retailers Directory - Directory of UK commercial retailers and suppliers.Business Directory UK
What should I do with my old Electrical/Electronic Equipment,
Click Here to find out......WasteCare.co.uk
Henrys Electronics Ltd
91 High Street, Edgware, HA8 7DB, United Kingdom
Tel : 020 905 7014 Fax : 020 8952 2195
Email: VAT Number : GB 241 7629 61


Google Maps