B228L B/W CCTV Camera with Audio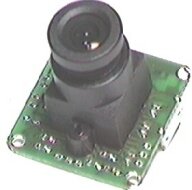 B/W CCTV Board Camera with a 3.6mm Lens comes with connector Cable.
All Board Cameras come with a 4-core 100mm lead. All you require is a connecting cable to plug into the "Aux" input of your TV/VCR and a 12V Power Supply. Field of View up to 30 Feet, Angle of View is 90 Degrees.
SPECIFICATIONS
Image Pick-up Device: 1/3" CMOS B/W Image Sensor

TV System: CCIR (PAL)

Number of Pixels: 500(H) x 582(V)

Resolution: 380 TV Lines

Min. Illumination: 0.5 Lux (F2.0)

Video Output: 1.0 V p-p 75 Ohms

Audio Output: 1V p-p 600 ohms

Board Lens: 3.6mm (90 Deg) F2.0

S/N Ratio: More than 48 dB

Electronic Shutter: 1/50 - 1/100,000 Sec

Power Source: DC 12V

Current Consumption: 50mA Max

Dimmensions: 28(W) x 28(H) x 25(D)mm

Weight: Approx. 30 Grammes
CMOS Special Offer
B228L £17.95

(Camera Only)
B228LKit
Camera Complete with 16 Metre Cable,
Power Supply and Scart Adaptor £32.95
All Prices Exclude Carraige and UK VAT


Henrys CCTV Centre,
404 Edgware Road, Paddington, London, W2 1ED, UK
Tel:
+44 (0)20 7258 1831,
Fax:
+44 (0)20 7724 0322,
email: