Shop Information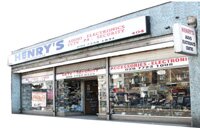 Henry's Electronics Ltd.
404 Edgware Road, London, W2 1ED, UK
UK: 020 7258 1831
Outside UK: +44 (0)20 7258 1831
Monday - Saturday: 9.00AM to 5.30PM
To Get to Henry's
We are 100 metres from Church Street,
300 meters from the Marylebone Road Fly-Over)
1 Mile from Marble Arch.

Trains & Tubes,
2 Mins. from Edgware Road Tube Station.
(Turn right out of Station).
Buses,
Number 6, 16 and 98.
(get off, Near Church Street).
Car Parks,
Plenty of parking metres, (in side Roads).
2- Local Car Parks: Church Street,
Church Street (Penhold Street).
Come And See Us
Our Shop is open from
9.00AM to 5.30PM Monday to Friday,
and 9.15AM to 5.30PM Saturdays.
Closed Sundays and all Bank Holidays

View Larger Map
Payment Methods UK and EU
We except Cash, Cheque (With Bank Guarantee Card), Please made payment to "Henrys" PayPal, Credit Cards: Visa, Master Card, Debit Cards: Switch, Connect and Delta and Electron. Bank Draft and Bank to Bank Transfer.
We can also except payment by "Dollars" or "Euros" By Bank Transfer. Please contact us.
Official Orders Welcome from Approved Educational Establishments and Government Departments.
Shipping Cost to Europe
Carriage Charge to Ireland up to 20Kg £18.00 Carrige Change for Austria, Belgium, Channel Islands, Czech Republic, Denmark, Finland, France, Germany, Hungary ,Italy, Luxembourg, Netherlands, Poland, Portugal, Spain, Sweden up to 20Kg £23.99
Add 20% VAT to all Orders. Please Note:- For EU Customers outside the UK with VAT registration issued by a/or the member state, There will be no VAT charge. Please Fax order with Company Headed Paper with VAT registration Number. For Delivery time, Please
Henrys Electronics Ltd
404 Edgware Road, London, W2 1ED, United Kingdom
Tel : 020 7258 1831 Fax : 020 7724 0322
Email: VAT Number : GB 241 7629 61