Vehicle Rear View CCTV Systems
7" Colour View Rear CCTV Systems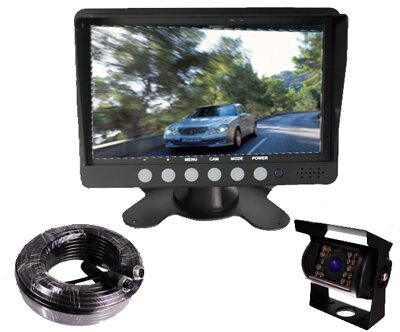 Reversing is a tricky business, especially when you are not able to see what is behind you. as soon as you engage reverse gear there are risks everywhere children playing, tight parking spaces, unfamiliar loading ramps and a whole host of un-foreseen dangers.Vehicle Rear view System give a clear overview of what is happening behind the vehicle, they proactively improve road traffic safety.
Complete System Includes
420TVL IR Colour Waterproof Camera with 110 degree wide angle lens.
7" LCD Monitor With Video Input & Mounting Bracket.
12-32V DC Input
20 metres of screened cable with plugs fitted.
"DIS"
All Prices Exclude Carriage and UK VAT
Specifications
TFT-LCD Color Monitor
Screen Dimensions
7"
Display Pixel
1440(H)×234V)
Display Type
Color TFT-LCD
Aspect Ratio
16:9
Power Supply
DC 12~32V
Mirror Function
YES
Size
200(W) x 133(H) x 38(D)mm
Rear View Camera
Image Pick-up Device
1/3 SHARP Color CCD Camera
Horizontal Resolution
420TV Lines
Usable Illumination
0LUX with 18 IR LED
Video Output
1.0Vp-p 75Ω , Negative
Electronic Shutter Time
PAL 1/50-1/100,000Sec
The lens focal length and angle
3.6mm 92°
Power Supply
DC12V±10%,250 mA
Size
91.2(L)*72(W)*67.5(H)
Weight
380g
Henrys Electronics Ltd
91 High Street, Edgware, HA8 7DB, United Kingdom
Tel : 0208 905 7014 Fax : 0208 952 2195
Email: VAT Number : GB 241 7629 61