Products

Information
We are UK based, if you prefer to
phone on 020 7258 1831.
Monday to Saturday, 9.30AM until 5.30PM



Security Note: This shopping cart system uses only the latest and most secure SSL Encrypted Security technology available. Your "Checkout" will be 100% secure, assuring that all personal information will be protected.




Covert Cameras
OL62 B/W DoorView Camera
You'll know who's there with the DoorView Camera.......
Without even having to go to the door! 420 Hi-Res./ 0.05 LUX
Door Camera takes the place of your door's peephole and allows you to view via TV.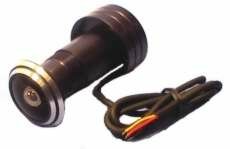 Specifications
Image Pick-up Device: 1/3" Colour CCD SONY

TV System: CCIR (PAL) System

Number of Pixels: 500(H) x 582(V) (440,000 pixels)

Resolution: 420 TV Lines

Min. Illumination:0.05 Lux (F2.0)

Video Output: 1.0 V p-p 75 Ohms (BNC output)

Lens: 2mm

Very Wide View of Angle: 170°

adjustable camera length from 37mm ~ 70mm

S/N Ratio: More than 50 dB

Electronic Shutter: 1/50 - 1/100,00 Sec (8 steps)

Sync system: Internal

Power Source: DC 12V

Current Consumption: 1W
Installation

Measurements (mm)
OL62 B/W DoorView Camera £59.95
OL62Kit Camera complete with
16 metre Cable, 12V DC Power supply
and Scart Adaptor £71.95

(Prices Exclude Carraige and UK VAT)



Henrys Electronics Ltd
404 Edgware Road, Paddington, London, W2 1ED, UK, VAT Number : GB 241 7629 61
Tel:+44 (0)20 7258 1831, Fax:+44 (0)20 7724 0322, email: