Henry's CCTV Centre Based in London
UK Suppliers / Importers of CCTV Cameras and Security CCTV Camera System Equipment. Including digital video recorders (DVR'S), Security for home and commercial use.
On the following pages you will see details of the latest CCTV Security Camera Equipment available.
Export customers, deliveries worldwide. Free delivery to shipper.
Proforma Invoice, Free quotations, Payment by bank transfer.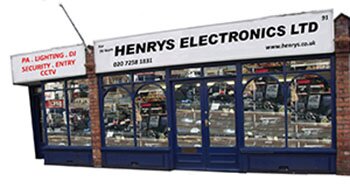 See our Range of CCTV Camera Security Equipment

All Prices are in "UK Pounds Sterling UK VAT

"HENELEC" Registered Trademark for Henrys Electronics Ltd
All Prices Exclude Carriage and UK VAT
Geovision System in need of Repair, re-booting, freeezing or not running properly?
Email With your Details and Fault. For a Free Quote.
We Accept School/Educational/Council/Government Official Orders For Automatic 30 day Account
Just Fax Order to 020 7724 0322 (Subject to Approval)
WWWi.co.uk
Henrys Electronics Ltd
91 High Street, Edgware, HA8 7DB, UK
Tel : 020 7258 1831 Fax : 020 7724 0322
Email: VAT Number : GB 241 7629 61